Editor's Pick: Petite Celebrities Kristen Stewart and Emma Roberts Petite Fashion Style Daily Shopper!
 BELLA PETITE MAGAZINE: Daily Shopper Petite Fashion For Petite and Plus Size Petite Women 
Bella Petite Magazine on petite celebrity style watch. Who's got the look?  Celebrities Kristen Stewart and Emma Roberts look fashionably petite this week! Tell us who your petite fashion style is most like. Dress like the stars, we found great deals for you here on Bella Petite!
The 5'4″ petite vamp Kristen Stewart hit the Kids' Choice Awards in a lace Stella McCartney minidress. She simply accessorize with  matching Barbara Bui suede pumps. The petite fashionista looks fabulously stylish!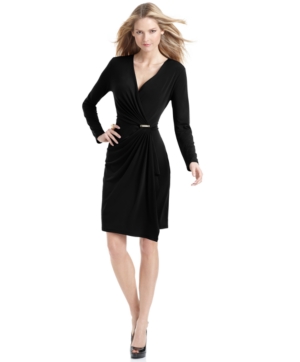 MICHAEL Michael Kors PETITE  Dress, V Neck Long Sleeves Ruched Hardware Wrap A Line On sale!
Petite celebrity 5'2″ Emma Roberts took in the latest Juicy Couture collection in the label's long-sleeve shift. She accessorized with an acrylic Edie Parker clutch and satin pumps.  Unfortunately, the pattern on this dress overtakes Roberts petite frame and looks frumpy.
More evidence to support our findings that petite celebrities are more petite than you know. RECENT QUOTE BY EMMA ROBERTS: American Actress best known for appearing in films like Scream 4 and Aquamarine. In a ScreenCave.com interview she mentioned, "I was also in heels because I was too short. I'm 5'2 on a good day but I was 5'7 or 5'9 in the movie because I had shoes that weren't ideal from running away from a serial killer"  

Black Poppy Print Dress List Price: $120.0 Stylish dress in a fine silk and cotton blend – summery elegant in black with a pink floral print – feminine top with straps, slim and decoratively ruffled – figure-flattering accentuated waist – trendy high-waisted, gathered miniskirt with ruffled seam – looks girly and sexy – simply a crazy summer dress for everyday, for school, shopping, clubbing – wear with wedges, clogs, toe sandals
What do you think: Who's got the best petite fashion style Kristen Stewart or Emma Roberts? Tell us below in comments.
BELLA PETITE MAGAZINE: Daily Shopper GUIDE Petite Fashion For Petite and Plus Size Petite Women
RELATED ARTICLES
Minka Kelly & Rachel Zoe Petite Fashion Celeb Style
Kate Mara & Emma Roberts Petite Fashion Style
Kristen Stewart & Kate Mara Fashionably Petite
Olivia Palermo & Salma Hayek Celebrity Petite Fashion
Petite Fashion Style Carrie Underwood & Rachel Bilson
****BELLA PETITE MAGAZINE****   Enter the Bella Petite Magazine Model Search WIN a trip to Hawaii and a high fashion spread to appear in Bella Petite Magazine!  Petite models get discovered today!
***************************************
Bella Petite Magazine is Fashion, Entertainment and LifeStyle for Women 5'5″ Tall & under. "Petite is fit and full figured."Free to subscribe to Bella Petite!
You will receive regular updates on our events, promotions, special offers and Bella Petite Magazine! Get your free issue of Bella Petite Magazine TODAY! CLICK HERE