Bella Petite Magazine trendsetting red! Talk about red carpet sirens- the ladies of the Emmy Awards were not shy about seeing red.  This is the Fall color of the season!
"Glee" petite actress 5'2″ Lea Michele opted for a red Marchesa number with super-constructed shoulders and her normal hairstyle, blowout with bangs. 5'5″ Nina Dobrev looked a shade similar in a curve-hugging Donna Karan.
"Mildred Pierce" nominee (and winner-to-be) nearly petite at 5'6″ Kate Winslet did a sweet and stylish hair tuck with a cleavage-baring red gown, while 5'5″ Sofia Vergara went a note lighter in an almost-coral Vera Wang number. Love BCBG? Save 20% on BCBG at eDressMe. Use Code bcbg11 – Shop Now
What do you think of the fire engine vibe at this year's Emmys? Tell us in comments below.
Petite celebrity 5'3″ Julianna Margulies bucked the trend in a white Armani Prive gown. Was this the worst dress of the night? We don'y think so, but some reporters disagree.
Margulies says, "It's exciting, but there's a little anxiety that goes along with it, until you get inside." This is true, Margulies moved inside only to have the Emmy for outstanding actress in a drama come her way for "The Good Wife" taking care of her anxiety
Red gowns seriously ruled the red carpet at the 2011 Emmy Awards last night.  Stars generally avoid this bold hue in fear of fading into the background, but each star shined brightly in red!
Petite celebrity 5'4″ Kerry Washington wore Zuhair Murad Couture.  Petite celebrities 5'0″ Kathy Griffin wore Oscar de la Renta, and 5'1″Angela Kinsey in Lorena Sarbu were all beautiful in the color of the night. We love Red Carpet Fever at eDressMe.com Get dresses inspired by your favorite Hollywood celebrities
!
Tell us who you think is the best and worst dressed petite celebrities on the red carpet at the 63rd Annual Emmy Awards in comments below.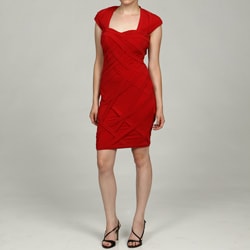 Jax Women's Red Stylized Cap-Sleeved Dress
Price: $49.99 Fashionable stylized details highlight this red dress from Jax. Fully lined, this dress features flattering cap-sleeves and a V-neckline.


Red Deep V-Neck Dress
Luxurious dress in lipstick red synthetic silk – by the new New York in label Halston Heritage, an hommage to the 1970s design god Halston – Sarah Jessica Parker wears this label in private as well as in the new SATC-film  pair with peep toes or gladiator booties!
Check out our Daily Shopper deals for you!  GREAT Deals! 15% Off Your Essential Fashion Guide at eDressMe.com
Free Ground Shipping on all orders over $150 at eDressMe.com
RELATED ARTICLES
Petite Celebrity Fashion Week Review
Daily Style: Petite Celebrity Rachel Bilson
Fashion Finds For Petite Women
Daily Style: Petite Celebrity Emma Watson
Daily Style: Petite Celebrity Salma Hayek 
Daily Style: Petite Celebrity Eva Longoria
BELLA PETITE MAGAZINE Enter the Bella Petite Cover Girl and petite model editorial search!  You must subscribe to enter the model search FREE.
Bella Petite Magazine is Fashion, Entertainment and LifeStyle for Women 5'5″ Tall & under.  "Petite is fit and full figured."
Subscribe to Bella Petite Magazine Today FREE Trial!