Editor's Pick: Petite Celebrities Emma Watson and Amanda Seyfried Fashion Style Daily Shopper!
BELLA PETITE MAGAZINE: Daily Shopper Petite Fashion For Petite and Plus Size Petite Women 
Who's got the look? Petite celebrities fashion scene with Emma Watson and Amanda Seyfried! Tell us who your petite fashion style is most like.  Dress like the stars, we found great deals for you here on BellaPetite!
Petite celebrity 5'4″ Emma Watson  greeted fans in a black and white ensemble, Lucite box clutch and ankle-strap sandals at the London "My Week with Marilyn premiere."

Navy/Royal Blue Striped Silk Knit Top Luxurious pullover in fine silk – by Jason Wu. THE fashion darling of the New York fasion scene posh version of the casual striped top – brilliant combo of exclusive and trendy with tremendous flattering quality wear with trendy flared pants, skinny jeans, a pencil skirt and high heels
Petite actress 5'3″ Amanda Seyfried went retro in a beaded flapper dress, Vram for Gray Gallery diamond chains and strappy Jimmy Choo sandals at the Cle de Peau Beaute spring collection launch.

Alberta Ferretti DR-A0461-0115-OR44 Orange Silk Chiffon Sleeveless Dress Look like a true fashionista with pieces by Alberta Ferretti.
What do you think: who's got the best petite fashion style Emma Watson or Amanda Seyfried? Tell us below in comments. Get petite celebrity style at and get 15% Off Your Essential Fashions at eDressMe.com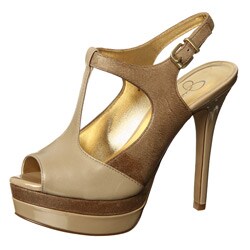 Jessica Simpson Women's 'Elso' T-strap Platform Heels List Price: $89.99 Smooth, two-tone leather tops these bold heels from Jessica Simpson. A goldtone ankle buckle, five-inch stiletto heel, two-inch platform and almond toe complete the provocative look of these sandals. Heel height/type: 5-inch stiletto Platform height: 2 inches Sole:
BELLA PETITE MAGAZINE: Daily Shopper GUIDE Petite Fashion For Petite and Plus Size Petite Women  
Daily Style Petite Celebs Rachel Zoe vs Carrie Underwood Petite Fashion Style
Daily Style: Petite Celeb Olivia Palermo vs. Victoria Beckham
Daily Style: Petite Celebs Ashley vs Fergie Petite Fashion Style!
Daily Style: Petite Celebs Sarah Jessica Parker, Sienna Miller & Kate Beckinsale
Daily Style: Petite Celebrities Victoria Beckham, Salma Hayek & Kate Hudson
BELLA PETITE MAGAZINE Enter the Bella Petite Cover Girl and petite model editorial search!  You must subscribe to enter the model search.  Bella Petite Magazine is Fashion, Entertainment and LifeStyle for Women 5'5″ Tall & under. "Petite is fit and full figured."Free to subscribe to Bella Petite!