Editor's Pick: Petite Celebrity Olivia Palermo Petite Fashion Style
Bella Petite Magazine on petite celebrity daily style watch. She's got the look!  The pretty Olivia Palermo looks fashionably petite! You can dress like the stars, we found great deals for you here on Bella Petite! Free to subscribe to Bella Petite!
PETITE FASHION STYLE
Petite reality starlet 5'4″ Olivia Palermo was all smiles as she helped open Faberge's New York flagship store in the label's 35.06-carat diamond necklace.  She wore a relaxed stripped blouse, black and white separates completing her look with vibrant blue satin Manolo Blahnik heels.
HOT OR NOT
Palermo's chic classic ensemble precise proportions perfectly accentuates her petite frame.  Summer fun is in the air with the cool bright stripes and vibrant heels adding pops of color! What do you think? Tell us below.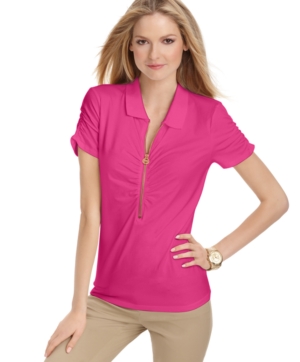 MICHAEL Michael Kors Petite Top, Short Sleeve Zipper Ruched Polo 

MICHAEL Michael Kors Plus Size Dress, Short Sleeve Printed Belted
RELATED ARTICLES
Powerhouse Petite Natalie Portman in Christian Dior
Petite celebrities Lucy Liu & Kate Bosworth shine!
Petite Model High Fashion Editorials in Bella Petite Magazine
Style Fashion and The Petite Woman
Who Wore it Better Petite Celebrity Jennifer Lopez or Emma Stone
Bella Petites Give Back! W Hotel Event Coverage
THE DOWNSIDE TO BEING SHORT
****BELLA PETITE MAGAZINE****   Enter the Bella Petite Magazine Model Search WIN a trip to Hawaii and a high fashion spread to appear in Bella Petite Magazine!  Petite models get discovered today!
***************************************
Bella Petite Magazine is Fashion, Entertainment and LifeStyle for Women 5'5″ Tall & under. "Petite is fit and full figured."Free to subscribe to Bella Petite!
You will receive regular updates on our events, promotions, special offers and Bella Petite Magazine! Get your free issue of Bella Petite Magazine TODAY! CLICK HERE